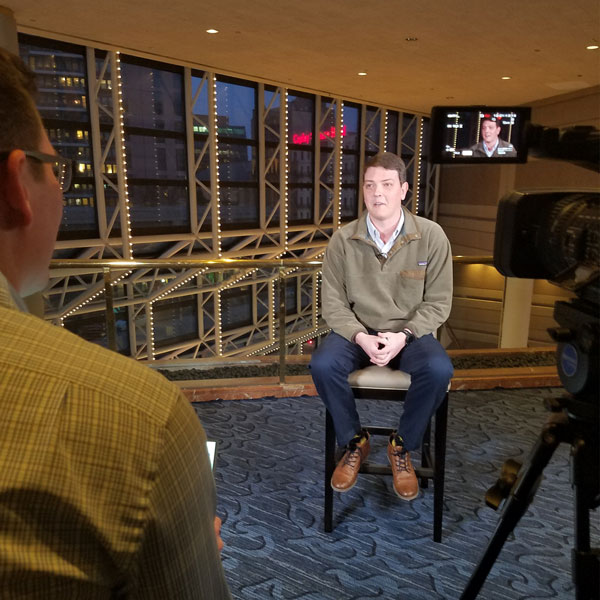 28 Nov

Five Ways to Maximize Your Event Production

Producing an event for your company is a huge task.  Booking venues, working with A/V teams, coordinating speakers, ordering food, planning your content, promoting the event – the list goes on and on.  If you're putting forth all of this effort, you should also have an event production plan to ensure that your event lives on after the attendees have gone home.

Even if you're simply an exhibitor at someone else's event, you still don't want to leave empty-handed, hoping the business cards you've handed out come through on their own.

Coordinating video production at your event is a project unto itself.  While it's more than worthwhile, it's something that you should be planning for early in the process.  Based on our experience live streaming from trade shows and recording content at conferences, we have five tips to help you cover your bases when it comes to video at your event.
A Dedicated Area to Record
Space can be at a premium at events, and it's important to set aside an area for filming when you put together your floor-plan.  Setting up a "studio" on-site can be a great way to simplify the process of collecting content at your event, and a way to make your event production more consistent and higher quality.
First and foremost, you want to remove the barriers to entry to recording on-site.  Having your event studio means you always have a place to quickly record content when it comes up.  If a VIP attendee only has 10 minutes to spare, you don't want to be fumbling around searching for an empty break-out room.  You want to be able to hustle them in front of the camera and roll.
In addition to ease of use, an on-site set gives you a degree of consistency.  You can showcase your brand with the backdrop you choose, and you can set up and test things like microphones and lights in advance.  That little bit of extra quality control can be hard to come by in the chaos of an event.  Knowing you have it takes one extra thing off of your plate.  Whether or not you're going live from your event, having a solid, branded place to film can be a huge help.
Attention to (Audio) Detail
We talk often about the importance of audio in your content creation efforts, and this is no different in event production.  The problem is that noise can be one of the biggest and trickiest variables when you're recording at a conference.  A certain amount of base-level noise in the background is expected.  A overwhelming roar of attendees enjoying happy hour after the final session wraps is a killer.
Your first and most important step is to have a good handle on the venue and the schedule.  Know when and where the coffee station will be, when breaks are going to happen, where the booths are going to be set up.  Get a feel for what else is going on at the venue in addition to your event.
All of these items are critical to making sure that your key interview isn't drowned out by the sounds of the conference.  Avoiding the chaos is the easiest way to ensure that your audio comes through the way you want it to.
Portable Lighting
Even if you do take the steps to set up an on-site studio, you're not going to want to film every single piece of content there.  Part of the deal at events is that you need to be mobile and flexible.  The means recording in tons of different areas around a venue.  That means being ready to deal with all kinds of lighting challenges.
Portable lights with solid batteries are a must.  Power comes at a premium at conferences, and what few outlets do exist are most likely occupied by a cell phone charger.  Hauling around extension cords and depending on power could mean an extra 10-15 minutes of set-up.  Remove that variable from the equation and bring battery-powered lights.
Bi-color LED lights are also a great option for going on-site.  When you go from room to room, you'll experience all different types of light.  Fluorescent, tungsten, daylight from the windows; you never know what surprises await you.  Bi-color lights let you balance on the fly without gels, and help you achieve a natural look wherever you're shooting.
Scheduling the Key Players
One of the main benefits of filming at an event or conference is the access. Gathering thought leadership content is a critical component of a content marketing strategy.  It helps establish expertise and trust in your field.  Just as important, it reinforces your relationship with the folks you're recording.Events bring together your key clients and thought leaders in your industry, and you want to make sure you have a chance to record with them.
Scheduling out blocks in advance is the best way to ensure that you get on people's calendars.  Once people are at an event, things become chaotic in a hurry.  Create a recording schedule with 30-minute blocks and work to fill it up before the event.
Of course things change and you'll need to be flexible as people cancel or look to re-schedule.  Having a solid plan in place will make this process infinitely more manageable.
Plan for Post-Event, Pre-Event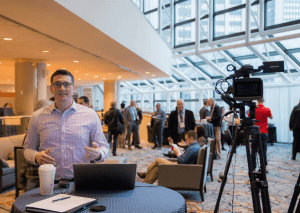 One of the biggest mistakes you can make in event production is saying "film everything and figure out what we'll use it for later."  It's an easy impulse to have.  Record as much as possible and deal with it once the dust has settled.  Grab interviews with everyone and figure out where they fit later.  This will leave you with a mountain of footage and a migraine.
You should approach your event production with a clear post-production plan.  What videos do you want to get out of this?  Which of those are the top priority?  What interviews or shots are included in each video?  While on-site part of your job as producer should be keeping track of all of your footage and checking your boxes on your plan.  Logging while shooting, even if it's not 100% perfect, will make your post-production intake significantly easier.
Take Your Event Production to the Next Level
If you're in the process of planning an event and want to make sure that you're ready to make the most of it, we can help! Download our Event Content Checklist to be sure that you capture everything you need to.